==================================================
Presenting the KittyCatS! Love Collection 2020
EyeHeartU!KittyCatS!
==================================================
We at KittyCatS! are proud to present our 2020 Love Collection -
EyeHeartU!collectible KittyCatS!
Sometimes it is easier to show your love with images instead of words. The EyeHeartU! KittyCatS are here to help you show your love to friends, family, that special someone, and even yourself! These unique cats are able to see all and are here to share their 'i love you' from the deep sea to outer space and everywhere in between.
The EyeHeartU!cats include a special animation in their menu, where they will rez a blanket with special poses, so you can enjoy them with a friend or loved one.
These cats are proudly displaying hand painted artwork from our very own Callie Cline! We hope you fall in love with these eye catching cats as much as we have.
Your KittyCatS! Team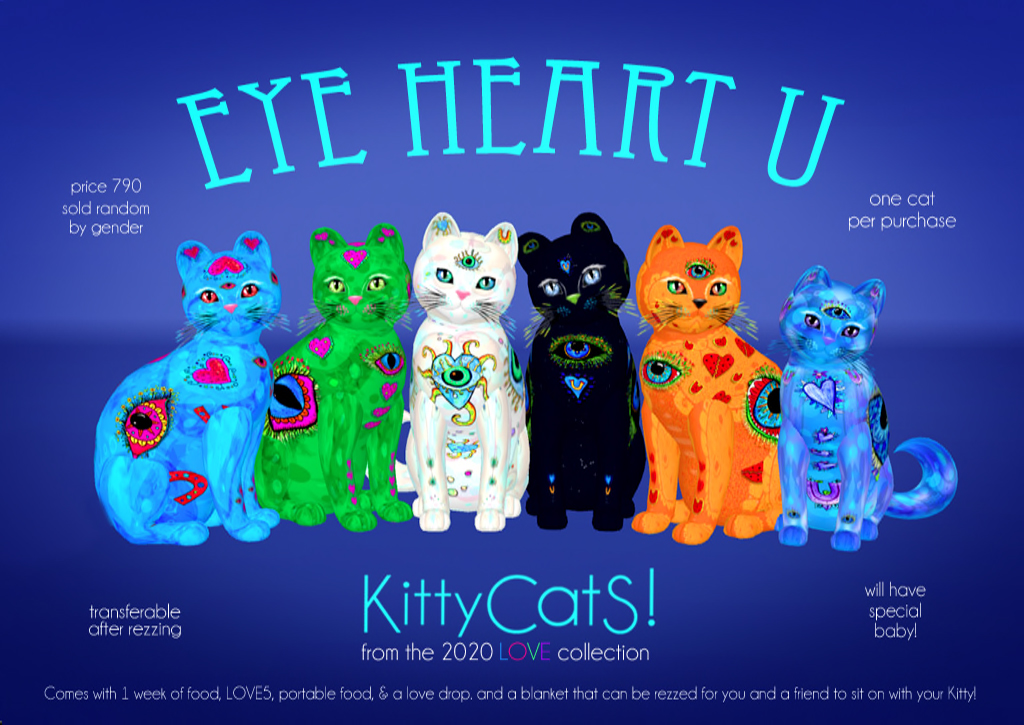 ==================================================
KittyCatS! - EyeHeartU!Facts!
==================================================
❤ Are the KittyCatS! EyeHeartU!cats transferable? - yes, after you rez them!
❤ Do they come with food? yes! they come with one week food, 5% love vitamins, one love drop. and one portable food (these items are not transferable)
❤ Can I buy more than one? - yes!
❤ Can I sell or trade them? - yes!
❤ Do they pass on their coats/eyes/tails/ears? -the EyeHeartU! are a specially designed collectible cat with random Genesis KittyCat traits which have the potential to pass their hidden traits like any other Genesis KittyCat. They can carry the genes of the new traits and furs that can only be discovered through breeding.
❤ Can they breed something special? – yes! If you breed 2 EyeHeartU!kitties they will give you a really lovely special baby you will NOT want to miss!
GET THEM HERE!!!!!
KittyCatS! - Shop
KittyCatS! ~*~ dreamy LOVE gardens ~*~
©2020 KittyCatS! all rights reserved. All names, titles, and text © KittyCatS! and may not be used without permission.