==================================================
Presenting the KittyCatS! Love Collection 2020
LOVE BUGS! 2 KittyCatS!
==================================================
We at KittyCatS! are proud to present our 2020 Love Collection -
LOVE BUGS! 2 collectible KittyCatS!
Do you hear that fluttering noise? Is it the fluttering of your heart? Is it the sound of love in the air? Is it the new KittyCatS! Collection?
Our kitties have dressed up as adorable little bugs once again in hopes to make your heart flutter and help you fall in love! These cute little bugs are here to spread love and remind everyone there is no right time for love, you can love all year around!
The LOVE BUGS! 2 include a special animation in their menu, where they will rez a blanket with special poses so you can enjoy them with a friend or loved one.
We hope you will love these fun LOVE BUGS! 2 as much as we do and that they remind you that we love you all sooooo much!
Your KittyCatS Team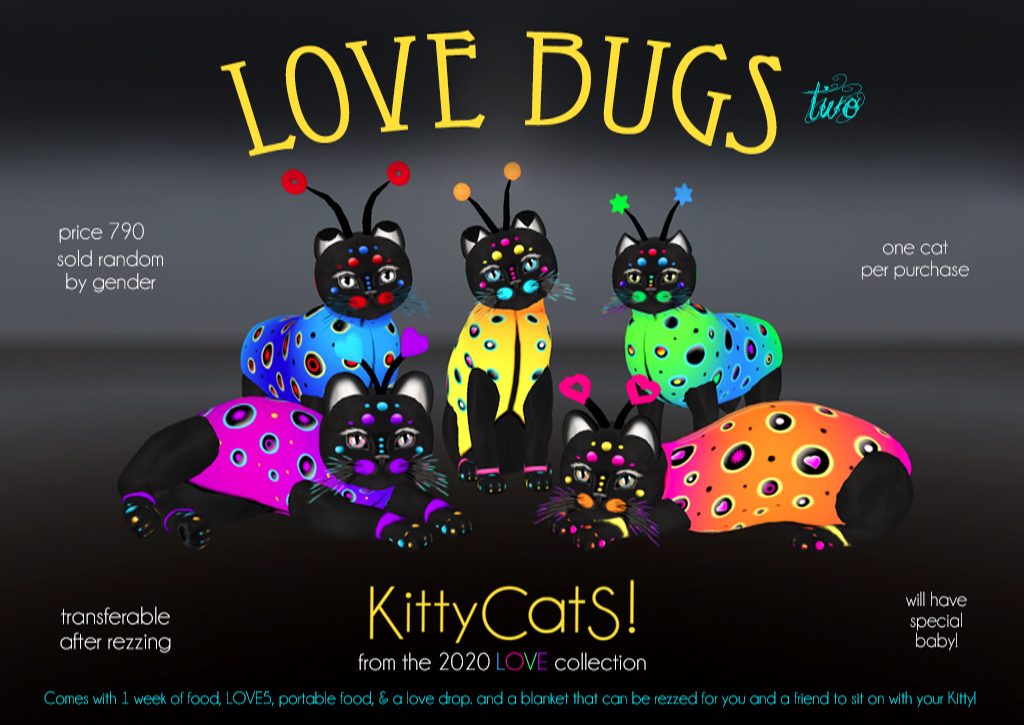 ==================================================
KittyCatS! - LOVE BUGS! 2 Facts!
==================================================
- Are the KittyCatS! LOVE BUGS! 2 cats transferable? - yes, after you rez them!
- Do they come with food? yes! they come with one week food, 5% love vitamins, one love drop. and one portable food (these items are not transferable)
- Can I buy more than one? - yes!
- Can I sell or trade them? - yes!
- Do they pass on their coats/eyes/tails/ears? -the LOVE BUGS! 2 are a specially designed collectible cat with random Genesis KittyCat traits which have the potential to pass their hidden traits like any other Genesis KittyCat. They can carry the genes of the new traits and furs that can only be discovered through breeding.
- Can they breed something special? – yes! If you breed 2 LOVE BUGS! 2 kitties they will give you a really lovely special baby you will NOT want to miss!
GET THEM HERE!!!!!
KittyCatS! - Shop
KittyCatS! ~*~ dreamy LOVE gardens ~*~
©2020 KittyCatS! all rights reserved. All names, titles, and text © KittyCatS! and may not be used without permission.