*:-.,_,.-:*'´ `*.¸.*´`'*:-.,_,.-:* *:-.,_,.-:*'´ `*.¸.*´`'*:-.,_,.-:*
Presenting the KittyCatS Winter Collection 2019
JinGLeBaLLs! KittyCatS!
*:-.,_,.-:*'´ `*.¸.*´`'*:-.,_,.-:* *:-.,_,.-:*'´ `*.¸.*´`'*:-.,_,.-:*
KittyCatS is proud to present our 2019 Winter Collection -
JinGLeBaLLs! collectible KittyCatS!
As I was dreaming of the Winter Kitties and what they should be like. I imagined a storm with blowing winds mixing and magical colors... snowflakes mixed with colored leaves, drops of rain mixed with the bright sun... casting colors, reflecting light. WOW.
I had a vision of Reindeers flying through the sky and playing with each other. Colored light balls on their antlers... they were happy it was winter. Caught up in a winter storm they were enjoying it and thinking about how when some see winter as just white, there are also many other colors too.
Color of candy, toys, decorations. snow and trees, this is the design that came out. Magical and simple, and reminds me of the different winters we all experience. Some with snow in places, and in others, who live in warmer climates, blowing flowers and leaves, too and a bit of rain here and there. (like where I live in the desert.)
No matter what, Winter is a Magical Season, and we hope you enjoy these magical Kitties and that you feel the love behind them, and that you'd experience a Winter Season that warms your heart & soul.
Your KittyCatS Team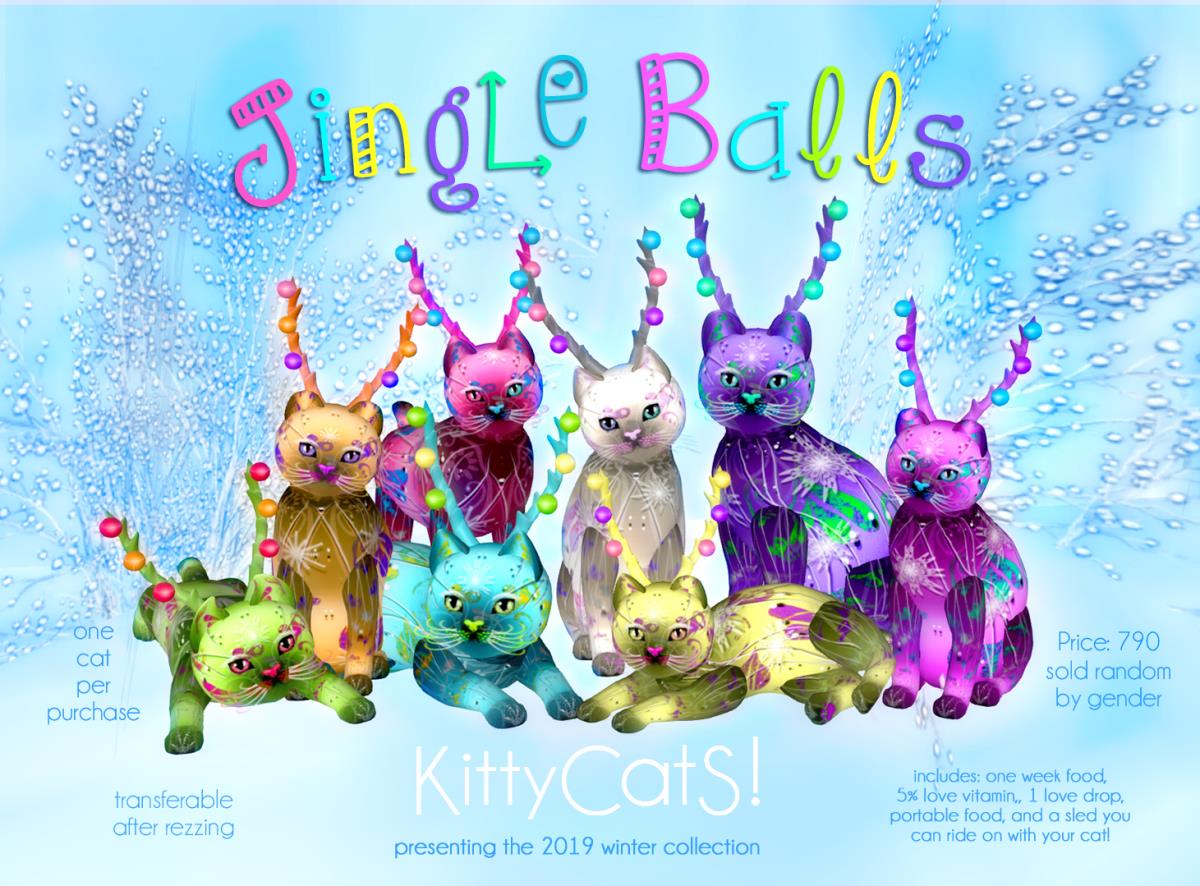 *:-.,_,.-:*'´ `*.¸.*´`'*:-.,_,.-:* *:-.,_,.-:*'´ `*.¸.*´`'*:-.,_,.-:*
KittyCatS - JinGLeBaLLs! Facts!
*:-.,_,.-:*'´ `*.¸.*´`'*:-.,_,.-:* *:-.,_,.-:*'´ `*.¸.*´`'*:-.,_,.-:*
✳ are the KittyCatS JinGLeBaLLs! cats transferable? - yes, after you rez them!
✳ do they come with food? yes! they come with one week food, 5% love vitamins, one love drop. and one portable food (these items are not transferable)
✳ are the horns removable? - you can hide the horns and balls via the cat's prim clothing menu
✳ can I buy more than one? - yes!
✳ can I sell or trade them? - yes!
✳ do they pass on their coats/eyes/tails/ears? -the JinGLeBaLLs! are a specially designed collectible cat with random Genesis KittyCat traits which have the potential to pass their hidden traits like any other Genesis KittyCat. They can carry the genes of the new traits and furs that can only be discovered through breeding.
✳ can they breed something special? – yes! If you breed 2 JinGLeBaLLs! kitties they will give you a really lovely special baby you will NOT want to miss!
✳ Do they come with a special animation? - yes! They contain a build-in Sled Animation for you and your kitty to enjoy, accessible from the Interact menu!
GET THEM HERE!!!!!
KittyCatS! Shop
KittyCatS! ~*~ W i n T e R w O n D e R w O r L D
©2019 KittyCatS! all rights reserved. All names, titles, and text ©KittyCatS! and may not be used without permission.