TONIGHT @ 6PM - Old West KC Auction w/Arella!
Some of our line-up tonight:
BALINESE SEAL LYNX WITH STUBBY TAIL @ OPEN BID!
MINT JULEP EYES @ OPEN BID!
ABYBLUE W/WILD ODY!
ABYLILAC W/PERFECT ODYRAINBOW!
SIAFLAME @ OPEN BID!
ABYBLACKSILVER!
10T KITTY!
PORCELAIN!
AND THAT'S JUST TO START!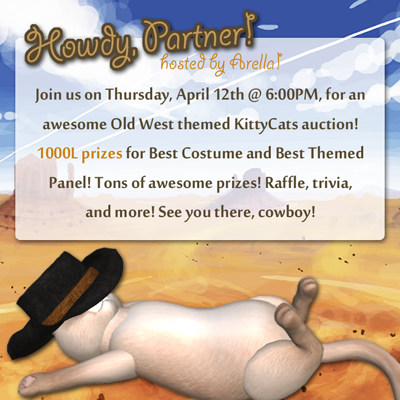 Howdy, partner! Join us for our Old West themed KittyCats auction!
Best Themed Panel and Best Costume wins 1000L each!
Trivia prizes, raffle, prize giver, and more! Plus an *AMAZING* line-up of kitties! You don't want to miss this!
Catnip @ The Borough Too